For the last 25 years, Cold Stone has been one of the pioneers in providing the best and freshest ice cream, gelato, cakes and smoothies. Philippines had its first taste of Cold Stone last 2005 in Rockwell. It formally opened its doors last 2013 at Serendra. Few years after, several stores opened in strategic locations such as Greenbelt, SM Mall of Asia and now in Glorietta! Super Premium Ice Cream made FRESH daily!
I was lucky enough to visit the newest store in Glorietta. The vicinity was well lighted. Perfect for Instagram-ready pictures! The staff was very courteous and fun to interview. Indeed, it's one of the best Cold Stone branches so far.
The best part of being a food blogger is to try limitless combinations of ice cream at Cold Stone. Here's my take on some of their most delicious flavors: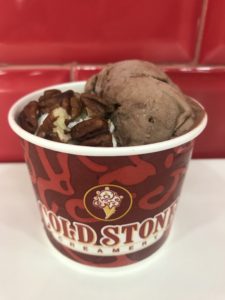 I love peanut butter as a spread but I like it more in an ice cream. I love how this flavor reminds me of Reese's cup. I combined it with Sweet Cream which was more subtle in flavor yet perfectly complements the rich flavor of the Chocolate Peanut Butter. I added pecan nuts to add texture to my ice cream. One thing I noticed about Cold Stone ice cream is that it doesn't melt easily. I'll give this combo an ACE.
Luscious Langka and Ube Decadent are both part of the Ready-to-Love Collection which features refreshing Filipino flavors. This has to be my favorite combination. Both flavors can stand by itself but it is much better together. You can really taste the sweet flavor of langka as well as the creamy and rich taste of ube in every scoop. This reminds me of Halo-Halo as a dessert. I'll give this an ACE.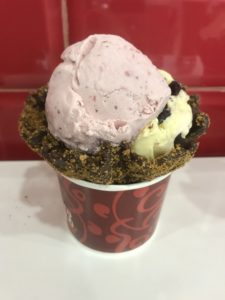 Cherry Biscottino and Triple Strawberry on the other hand was a new combination that popped in my head. I love cherries and strawberries (totally obsessed with it) in desserts and it did not disappoint here. I'll give it a HIT.
Cold Stone also offers refreshing and creamy milkshakes. I personally tried Strawberry and Chocolate. Both are good but I like Strawberry Milkshake more. Check the reason above. Chocolate Milkshake is a HIT while I give Strawberry Milkshake an ACE.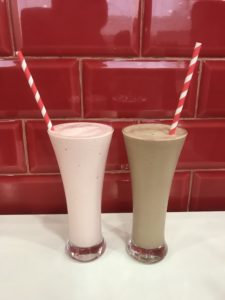 I also tried their Coffee House Crunch Ice Cream Cake. It gives you different textures and flavor at each bite. I also love the presentation. I'll give it a HIT.
Apart from diverse selection of delectable flavors, they also have a wide variety of combinations to choose from. It's all about endless imagination! I really enjoy all of their flavors to be honest. I can't wait to go back and do other combinations!
Did you know that Cold Stone is part of the Grub Club? Check out the perks and privileges below:
Grub Card – Terms and Conditions
Discounts and Privileges
10% off across all brands from Tuesdays to Sundays
15% off on all brands every Monday
50% off on all Tous les Jours breads 1 hour before closing
Vouchers
1 (One) 20% off your bill on your birth month
2 (Two) P500 off for minimum purchase of P2,000
3 (Three) P200 off for minimum purchase of P800
4 (Four) P100 off for minimum purchase of P500
Reward Points
Earn 1 Point with every P50 spend
1 Point = P1
Grub Club Card Purchase
Card is valued at Php 998
Twelve (12) months validity upon purchase
Discount and privileges can be claimed from all Trident Food Group Brands
Grub Club discounts are not to be combined with other discounts and promotions such as party packages, banquet services, events, senior citizen and PWD discounts
In-store Registration
Purchase the card
Provide Grub Club ambassador with your card and basic information details
Confirmation code will be received via SMS or Email
Provide Grub Club ambassador with code received to activate your card
Web Portal Registration
Purchase the card
Visit www.grubclub.ph and click on Register
Sign up by filling up the required information
Activate your account via SMS or Email
Mobile App Registration
Purchase the card
Download the free App via Apple App Store or Google Play Store
Sign up by filling up the required information
Activate your account via SMS or Email
How to use the Grub Club Mobile App
Download the app from Apple App Store or Google Play Store
Log in your account with your username and password after registration
Complete the registration on the "My Account" portion
Check the Grub Club Mobile app to monitor your points, rewards and other offers
Lost or Stolen Card
Please report lost or stolen card so it can be deactivated immediately
Existing points from lost card will be transferred once new card has been issued and updated in the system within the next 48 hours
The same expiration date will apply for the replaced card
Php 100 for card replacement
Expiration
Card expires after twelve (12) months from date of purchase
Once card expires unused points can be carried over upon renewal or purchase of a new card
Upon card's expiration date customer has three (3) months to purchase a new card otherwise points will expire
How to earn points
Each fifty (50) pesos spent on food and beverage is equivalent to one (1) point
One (1) point is equivalent to one (1) peso
Point may be earned from all modes of payment including cash, credit and debit card
Points may be converted to monetary form and can be consumed anytime within the validity period of the card
Points can be earned from all Trident Food Group Brands
Present your Grub Club Card upon payment to earn points
Points earned will be credited within the next 48 hours
Points earned at all Trident Food Group Brands can be checked either through the Grub Club Website or thru the Grub Club Mobile App
Banquet reservation/event is not applicable to earn/accrue points
How to redeem your points
Present your Grub Club card at any of Trident Food Group restaurants or stores
Points earned can be redeemed from all Trident Food Group
Points earned can be used as mode of payment for dine-in, in-store purchase and take-away
Points are non-transferable and cannot be converted to cash
To know more about the brand, follow their official social media accounts:
Facebook: Cold Stone Creamery Philippines
Instagram: coldstoneph
You can also check out other Trident Food Group Brands / Grub Club merchants below: