Tous Les Jours (TLJ) is a French-Asian artisan bakery that provides best quality produce on a daily basis. The brand came from a French phrase which means "every day." The ingredients are carefully sorted and sourced out from South Korea. It's the perfect fusion of European and Asian concept: European styled bakery with Asian flavors and ingredients. The bakery offers five-star friendly service to each customers.
TLJ uses finest wheat and flour for all breads and pastries. They have partnered with Jaeil Jaedang, a company with 56 years of flour milling experience to ensure top quality. They also incorporate the best sea salt obtained during summer season. It is one of the key ingredients in all of TLJ pastries.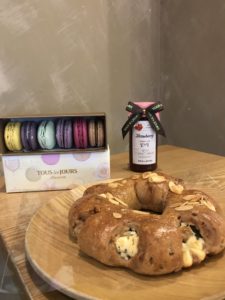 TLJ is part of the CJ Foodville Corporation founded last 1994 in South Korea. One of the vision of the company is to capture the world's taste beyond Korea. They have recently expanded in the following countries: China, Vietnam, Indonesia, Malaysia, Cambodia, United States of America, United Kingdom and Philippines.
TLJ Philippines recently re-opened its doors in SM Megamall Bldg. B, Lower Ground Floor, EDSA corner, J. Vargas Avenue, Mandaluyong City. Apart from this branch, it also has stores in Greenbelt 5, SM Jazz, Eastwood City, Cubao, Vista Mall Sta. Rosa, SM San Lazaro, Serendra BGC, Lucky Chinatown, SM North Edsa, UP Town Center, SM Mall of Asia, Serin Tagaytay, Alabang Town Center, Festival Mall, SM South Mall and Trinoma.
I happened to visit the Glorietta branch where I tried these amazing pastries:
Happy Flower Heart Cake
It's a lovely cake with strawberry jam on white sheet and creamy flower hearts. Very artistic in design yet simple. Perfect for your special someone or family members for any occasion. My verdict? I'll give it an ACE.
Macaron Fantasy
This is a strawberry sponge with cream cheese frosting and macarons. The different colors of the macarons really made the cake extra special. It's perfect as a gift for birthdays or any other occasion. I'll give it a HIT.
Cream Cheese Walnut Bread
It's a multi-grain bread with cream cheese filling and topped with sliced walnuts. I paired it with Strawberry Jam which made it tastier. It's perfect as your afternoon snack with a cup of warm tea. It's a HIT for me.
Dulce De Leche Sliced Cake
It's compose of layers of rich, moist chocolate caked filled with heaps of luscious dulce de leche and ganache filling. It was covered with premium chocolate coating. It definitely gave me reasons to go back to TLJ on a daily basis! I'll give it an ACE.
Muffin
During my visit, I tried two flavors of muffins: Mocha Chocolate Chip and Cream Cheese Muffin. The former has a very rich choco-coffee taste while the latter is much more delicate and cheesy in flavor. Both were very soft but does not crumble easily. I'll give both a HIT.
Espresso Crunch
If you're a run and need a caffeine fix? You need to try the Espresso Crunch. It's a bit crunchy with a peanut-like + coffee taste. It's very handy and perfect as a gift to your colleagues and friends. This one is an ACE for me.
Assorted Macarons
If you're looking for a birthday present for someone special, I would recommend TLJ's assorted macarons. It's available on Box of 6's which you can pre-select the flavors of your choice. I selected Mango, Grape, Green Tea, Blueberry, Korean Cherry and Vanilla. This is a HIT for me.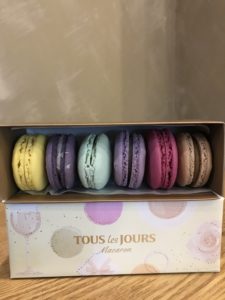 Did you know that TLJ Philippines also sell jams? Yes! They do. I tried their Strawberry and Mixed Berry Jam. I like strawberry better since it's one of my favorite fruits. I'll give it an ACE and a HIT respectively.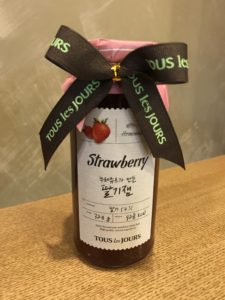 To know more about the brand, you may follow their official social media sites:
Facebook: Tous Les Jours PH
Instagram: touslesjours
Twitter: TousLesJoursPH
Website: https://www.tlj.ph/