Wait no more! Barcino brings you its newest offering. Desayuno is now open to serve Spanish breakfast.
Barcino is a restaurant that celebrates the beauty and diversity of Spanish cuisine and culture. The restaurant is designed to make you feel like a local in Spain. Why book a flight for Spain if you can get the delicious Spanish food at Desayuno?
As breakfast is seen as the most important meal of the day to us Filipinos, Barcino saw the need to introduce a Spanish breakfast offering that welcomes Pinoys to start their day fresh at Desayuno.
Desayuno takes inspiration from Barcelona, where each visit is an experience full of quirkiness with a dash of cheekiness but enough reverence that makes every moment a memorable one. A step inside Desayuno feels like a garden on a rosy morning, with family and friends gathered around the table sharing latest stories along with some healthy and fresh hearty dishes.
The Tennis Foodie had a glimpse of their exclusive Desayuno favorites:
Champurrado is puffed rice and Venezuelan chocolate porridge with dulce de leche, bacalao flakes and milk. It's the best start for a busy day. My take on it? I love how they use dark chocolate on this dish. I'll give it an ACE.
Avena Con Nueces Y Frutas is basically oatmeal with nuts and fruits. For those on a special diet, I think this is a best start-up for you in the morning. This one is a HIT for me.
Scrambled eggs are my favorite for breakfast. Huevos Revueltos is scrambled eggs served on toast with a side of roasted tomatoes and potatoes. In this dish, they were able to showcase the contrast between fluffy and crunchy texture. I'll give in an ACE.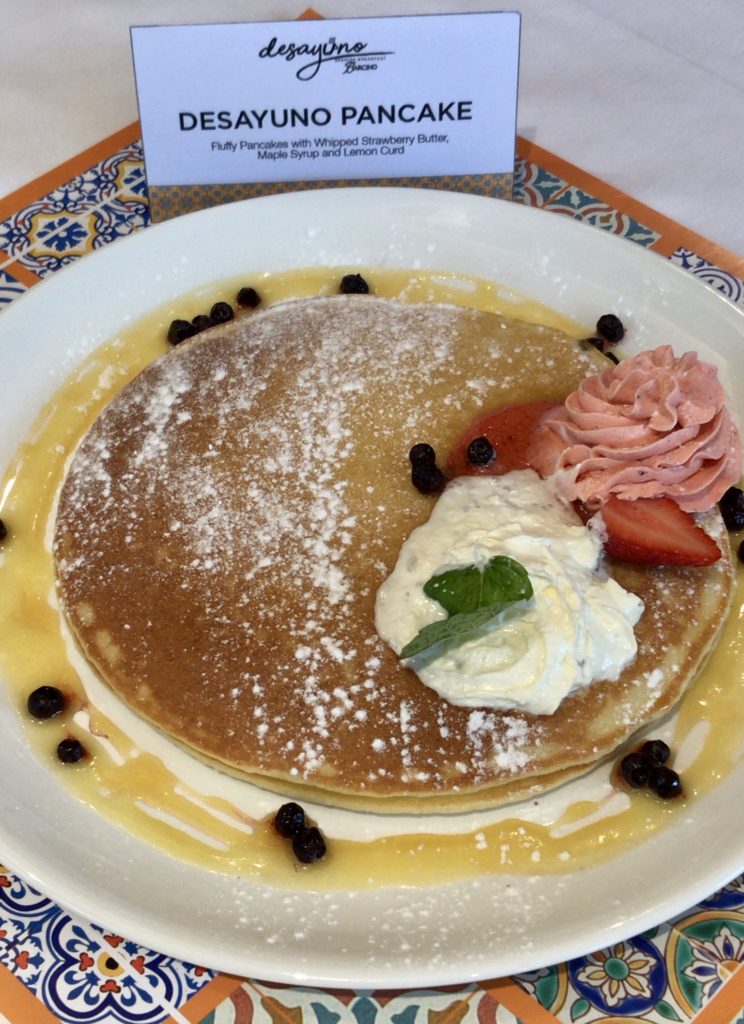 Desayuno Pancake is so fluffy! It's perfect for kids and young at heart. It was topped with whipped cream, strawberry butter, maple syrup and lemon curd. I'm a big fan of strawberries so this definitely gave a big smile in my face. This one is an ACE for sure!
Desayuno Tortilla is a special omelette stuffed with spinach, jamon and manchego cheese. It's perfect for sharing! I'll give this one a HIT.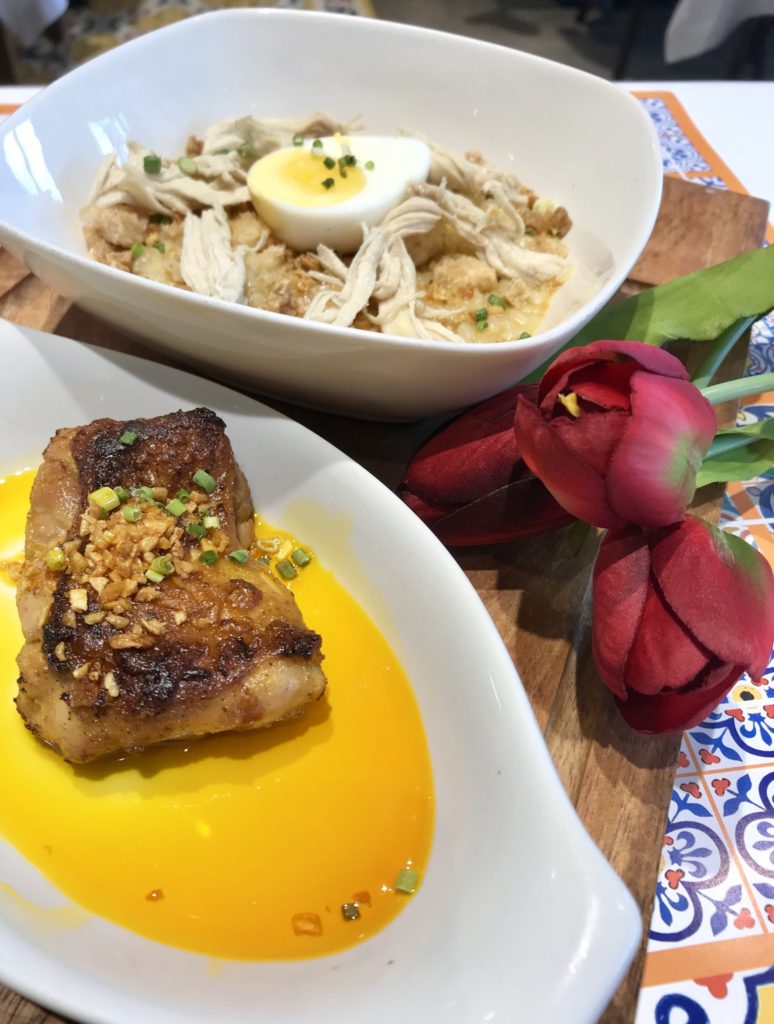 Desayuno Arroz Caldo is a porridge with chicken, ginger, cracklings, saffron and roasted chicken inasal (separate). Well, the porridge is a bit dehydrated. It's not your typical arroz caldo. A bit interesting to have roasted chicken inasal on the side. Not a big fan of dish but it's worth the try! This one is a HIT for me.
Sirloin beef with sunny side up fried eggs and garlic side pilaf with pickled papayas is what makes up Salpicao Y Huevo. I'm a big beef eater so I really appreciate this dish. The sirloin beef was cooked perfectly and it works well with pickled papayas. This one is an ACE for me.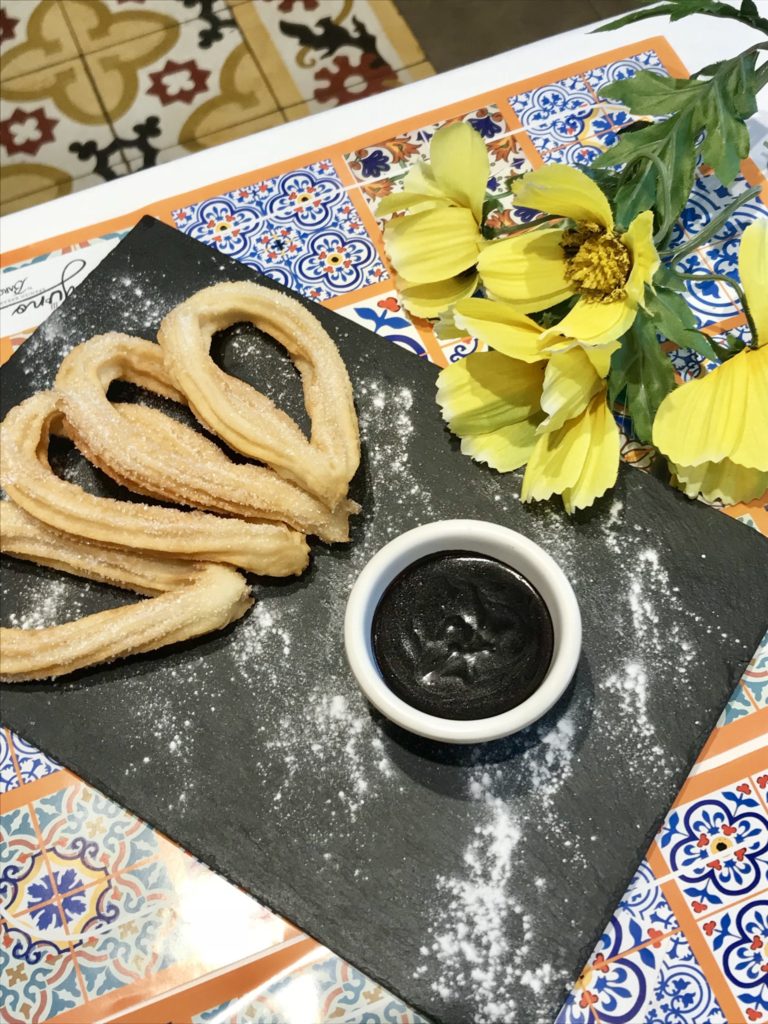 Who says you can't have dessert for breakfast? You should try Desayuno's Churros. It was paired with dark chocolate dip and dusted with confectioners' sugar. My verdict for this dish is a HIT.
Desayuno opened to the public on November 24, 2018. Serving time is from 7 AM to 11 AM every Friday to Sunday exclusive to Barcino Santolan Town Plaza. Reservations are highly recommended for an 8 AM to 10 AM seating as there are limited seating. Limited spots will be available for walk-in starting at 7 AM.
For reservations, please contact them at (02) 532-6225 or 09770976784.
Alternatively, you may check their official social media pages:
Facebook: Barcino Wine
Instagram: barcinowine