Are you ready to enter a whole new realm bursting with fresh flavors at SIX Doors? It is the first table mapping projection and 3D dining experience in the Philippines. Last November 18, 2018, I was fortunate enough to be one of the first media arm to try this new venture.
SIX Doors integrates the world's best cuisines and technology, bringing to your table an exciting gastronomical journey. It lets you go on a magical train which brings you to an extraordinary journey filled with mouthwatering dishes from around the globe – all without booking your flight out of the country.
The chic interiors and elevated dining experience was conceptualized in Singapore by a various group of seasoned restaurateurs. Redefining the entire dining experience, SIX Doors is set to open this December 5, 2018 at Uptown Mall, Bonifacio Global City.
The international BBQ Buffet offers the freshest and finest selections. The restaurant lets you savor a variety of flavors and aromas with carefully selected meals cooked to near perfection. It is a culinary experience you can never miss! It is guaranteed to satisfy every craving you have!
Here's what The Tennis Foodie tried during the Media Launch:
I started with the appetizers. I tried the Smoked Salmon Mousse. I personally love salmon but this did not give justice for my cravings. It was presented nicely but it lacks the flavor I was looking for. My verdict? It got an AVERAGE score for me.
If there's one dish I really love during the media launch, it would be the Red Bean Cake. It was fried well and you can really taste the red bean inside each slice. A bite of this dish reminds me of Hong Kong! I would give it an ACE.
From fancy kebabs to fresh oysters, Six Doors 3D BBQ Buffet has it! If you're into International cuisine, this is the right place for you. I'll give the fresh oysters and fancy kebab both a HIT.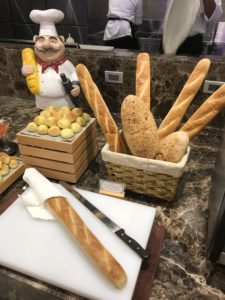 If there was one viand that I took more than twice, it would be Chicken Galantina. It was cooked perfectly during my visit. It was carefully arranged in an orderly and tasty manner. Every bite gives you Filipino-Spanish flavor that will surely entice your taste buds. This will definitely be an ACE for me.
One advantage of this new restaurant is that it lets you experience a premier Butler-style service and interactive buffet-style displays. All guests are welcome to reserve their premier six (6) VIP rooms for business meetings, intimate engagements and other important life events. A dinner for 4 with your family or a party for 300, SIX Doors is your best choice to celebrate your special occasion.
Six Doors 3D BBQ Buffet has a dedicated dessert area for your sweet tooth cravings.
It promises everyone a whole new world and a mind blowing dining pleasure on the other side. Truly a "WOP" or World On Plate experience! If you visit, make sure you use the hashtags #wop and #worldonplate to spread the word.
Here are some of the food shots I took during my visit: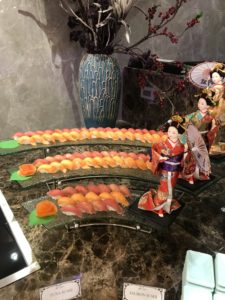 Here is the schedule for their buffets:
Operating Hours
Lunch Buffet: 11:00 AM – 2:30 PM
Dinner Buffet: 5:30 PM – 10:00 PM
After Dinner: 9:00 PM – 2:00 AM
VIP Rooms
Monday – Thursday
6:00 PM – 9:00 PM
Friday – Sunday
First Sitting: 5:00 PM – 8:00 PM
Second Sitting: 9:00 PM – 12:00 MN
Apart from the above rates, they also offer promotions for bulk reservations. Please see special rates below:

Birthday Promo
Exact Birthdate – 1 + 1
Bring proof of birthday, any government id showing birth date;
One full paying adult required to avail FREE Buffet.
Birthday Month Promo – 3 + 1
Bring proof of birth date;
3 full paying adult required to avail the FREE buffet
BIG GROUP Promo
10 paying + 1 FREE Buffet
20 paying + 2 FREE Buffet
30 paying + 3 FREE Buffet
40 paying + 4 FREE Buffet
50 paying + 5 FREE Buffet
60 paying + 6 FREE Buffet
70 paying + 7 FREE Buffet
80 paying + 8 FREE Buffet
90 paying + 9 FREE Buffet
100 paying + 10 FREE Buffet
Big Group promo head counts shall be based on full paying adult
BULK Gift Certificate Purchase
20 GC's ABOVE – 10% DISCOUNT
To know more about the brand, check out their official social media accounts below:
Facebook: Six Doors 3D BBQ Buffet
Instagram: sixdoors3dbbqbuffet
Email: sixdoors3Dbbqbuffet@kfmc.ph