Few days ago, I happen to stumble upon a unique study center and work café in the heart of Quezon City. Quarks and Quill is a modern study center branded with quality, affordability and personal touch. Currently, they have Math Enrichment, After-School Tutorials and Mandarin & Hokkien classes. They also offer summer courses as pre-college introductions and enrichment courses.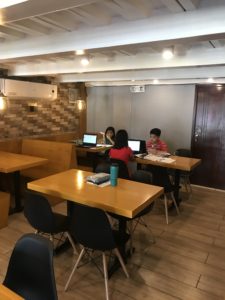 During my visit, I was privileged to try the following dishes in their cafe:
Appetizers
Tinapa Wantons are crispy golden brown wantons stuffed with smoked fish paired with spicy tamarind vinaigrette. It was really tasty and very unique experience. I'll rate it as HIT.
Monte Cristo is a French toasted sandwich filled with homemade ham and oozing with cheddar cheese. Isn't this really good? I'll give it an ACE.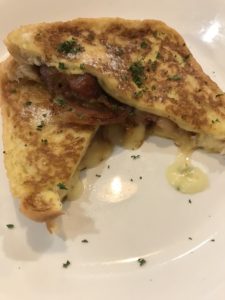 Omurice Specials
I also tried the Pork Katsu which is a half-inch thick porkchop paired with shredded cabbage tossed in tonkatsu sauce. It was really heavy and a single serving is actually good for two. Talk about cheap eats or good deal. I also love the presentation. It's a perfect ACE for me.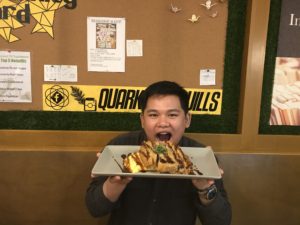 Pastas
I love their Fresh Tomato Pomodoro. It was very rich in flavor. It's linguine and chicken cooked in a medley of fresh tomatoes and herbs. It's surely a comfort meal while reading a good book or just chilling out in the café. I'll give it a HIT.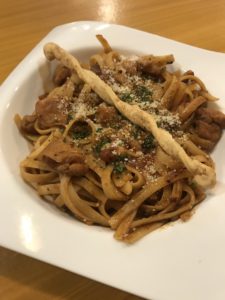 Of course, I also tried their famous Pour-over Coffee. It's a deconstructed form – frozen espresso served with syrup and steamed milk. Talk about innovation! This is so cool. I enjoy doing boomerang video on while pouring the syrup and the milk. I'll give it an ACE.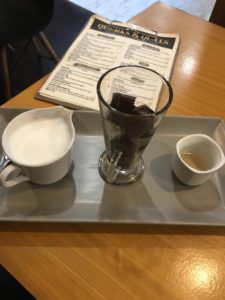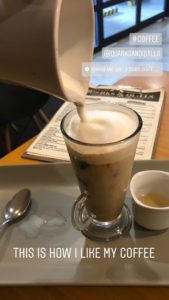 I really love how they put a simple cafe along with the study center. It helps students focus more on their studies. Instead of thinking of what to eat and where to buy, they'l just order in a snap. Talk about convenience and freshly prepared food! Yummmmm!
I can really recommend this place. I can't wait to go back and try some other dishes again. The Tennis Foodie approved!
Quarks and Quills is open from 7 AM – 11 PM. To know more about the brand, you may follow them in their official social media accounts:
Instagram: @QuarksAndQuills
Facebook: QuarksAndQuills