Last December 14, 2017, the contract signing between One World and Seven Seas Culinary Inc. and Malongo Atelier Barista was held at Buenavista, Raffles Hotel Makati. Malongo is a French Living Heritage Company, a prestigious label that singles out the French expertise of excellence. The café sells beautifully designed machines and exceptional coffee in the form of beans, grounds or in pods. Stylish and friendly, understated and rich with the history of coffee, these cafes are a cozy stop off for urban dwellers. The very first Malongo café in Asia will be opened in Greenbelt Hamilton Tower, Legazpi Village this coming 2018.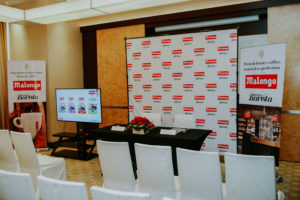 Once a small roasting house in a district of Nice, Malongo is a family firm that started out in the 1930s. Today, Malongo is the leading actor for fair trade coffees and bio-coffees. A dynamic and atypical SME, it is recognized by professionals and individuals alike for the quality of its coffee and the strength of its ethical commitments. The unique quality culture of Malongo served as the basis for its values towards the preservation of its roasted coffee, respect for the people growing the plants and customer satisfaction. The brand produces 7,000 tons of coffee each year and has remained attached to its roots of good traditional coffee. Quality ethics and commitment to people being key holders to its success.
In 1980, central management was entrusted to Mr. Jean-Pierre Blanc, an Economics graduate who had engaged in fair trade since the early 1990s. He was a member of the Board of Directors of the Max-Havelaar France, an association of international solidarity. It represents the Fairtrade movement composed equally of civil society organizations for producers both from the North and South. Fair-trade is an alternative approach to conventional trade based on a partnership between producers & traders and businesses & consumers. It aims to implement fairer trading terms. It empowers and provides producers to combat poverty, strengthen their capacities and take their future in hand.
As Managing Director of the Malongo Atelier Barista, Mr. Jean-Pierre Blanc met Padre Francisco Van der Hoff, founder of fair trade on a Mexican coffee region in 1992. Following this meeting, Malongo became the first French brand committed to the fair-trade movement by working with small growers and launching long-term investment in this field. Malongo is the first and the oldest French firm to use the Max-Havelaar fair trade label.
The first Max-Havelaar certified product available on the French market, the "Café des petits producteurs" (Coffee for small producers) is still the best-selling fair-trade item in France. The brand purchased 36 different origins of green coffee under fair trade conditions in 2011. More than half of Malongo coffees and 100% of Malongo teas hold organic AB certification, applying strict specifications guaranteeing that the product was produced without fertilizers or pesticides, among other aspects. Malongo continues to be pro-active in producing countries to help new cooperatives in obtaining certification. It currently offers in its catalog 28 origins of Max-Havelaar labeled coffee (54% of its imports in value) from 14 countries.
Being the leading French company for top of the range coffee, Malongo is omnipresent throughout the production process, from the plantations right to the customer's cup of coffee. Malongo imports its coffee beans from the best plantations around the world. Grown according to traditional farming methods, Malongo offers coffees from small-scale farming, cultivated in the shade of high altitude plantations. Each bean is picked by hand, in order that only perfectly mature beans are harvested.
The extraction method most frequently used by Malongo is the "wet process", the best method when it is followed by particularly careful drying. All Malongo coffees are roasted using slow, gradual and traditional techniques in 20 minutes. Lavished with the attention of a master roaster, it allows the greatest Arabicas to reveal all the finesse of their aromas. The beans are then air cooled, and never titrate more than 2% humidity. The coffee is shipped to the Malongo factory in jute sacks, which are stacked in insulated containers. After a check on its origin, it is tasted with meticulous care by the quality managers and then stocked in silos.
Being the first to market vacuum-packed coffee in 1950 and then in metal tins in 1965, Malongo continues to push back the boundaries of quality, technology and service. Malongo coffees are always vacuum-packed in metal tins, soft packs or individual pods. This guarantees that the freshness of the aromas will not be impaired in any way. The brand has undertaken far-reaching research projects to offer coffee packaging that always and increasingly respects the freshness of the aromas. The winner of several Oscars for packaging, Malongo is now putting its full force behind eco-design.
Malongo's Research & Development laboratory has also developed a complete range of professional machines suitable for ground coffee, coffee beans or individual pods. These models are available from the most compact to the most efficient. They are specifically designed so that the aromas of the coffee express every stage in the long and meticulous process that they have undergone.
Since 1997, the 1,2,3 Spresso® pod and machine pairing has been one of the most sublime expressions of the brand. On the very competitive home espresso market, it stands above the rest for its 16 bars of pressure, astounding range of sources available on its menu (coffee from 60 various sources and 50 teas from 40 countries on five continents) and its sustainable nature (pods made of 100% natural fibres, thus completely compostable). A concentrate of aromas and flavors, the 1,2,3, Spresso® individual serving system has revolutionized the art of coffee at home…and in the café!
Malongo is a "French Living Heritage Company", a prestigious label that singles out French expertise of excellence. The brand targets an audience of connoisseurs, those who love exclusive products and shun anything mass-produced. Malongo's reputation is built on offering customers products of the highest quality combined with fast-efficient service. The café sells beautifully designed machines and exceptional coffee in the form of beans, grounds or in pods. Customers can enjoy a coffee cocktail, tea or select a coffee for made-to-measure grinding by an expert. Truly, Malongo Atelier Barista is an escape to a haven of relaxation and comfort. Stylish and friendly, understated and rich with the history of coffee, these cafes are a cozy stop off for urban dwellers.
Malongo will be opening its first ever café in the Philippines come 2018. Its first branch will be located right in the heart of the Makati Central Business District at the modern and contemporary Greenbelt Hamilton Tower, Legazpi Village.
For more updates, please see the official social media accounts below:
Facebook: malongoph
Instagram: malongoph