I love cooking pasta especially with seafood. Today, I have created a new recipe for all The Tennis Foodie fans out there. It's an easy 20 minutes Creamy Mackerel Pasta recipe using Uni-Pak Mackerel.
Check out the Ingredients below:
350 g fettuccine
2 tbsps olive oil
1/2 cup onions, chopped
2 pcs garlic cloves, crushed
1 cup all purpose cream
2 tbsps tomato paste
4 small cans or 2 big cans of Uni-Pak Mackerel, drained
1 cup green peas
1 tbsp parsley, chopped
1 cup tomato sauce
salt and pepper for seasoning
Here are some of The Tennis Foodie's original recipes:
Instructions:
Cook the pasta in boiling water with a pinch of salt and 1 tbsp olive oil until al dente. Drain.
Heat the remaining olive oil in a large frying pan over medium heat. Add the onions. Cook for 3 minutes.
Add garlic and cook for 1 minute. Add the all purpose cream, tomato paste and tomato sauce. Heat gently for 2-3 minutes.
Add the Uni-Pak Mackerel and green peas. Heat gently for 1-2 minutes.
Stir in the pasta and add the parsley for garnishing. Add salt and pepper to taste.
Uni-Pak Mackerel is full of essential nutrients needed in the body. With affordable price, you can provide a healthy and quality food to your family. What are you waiting for, try it now!
The Tennis Foodie would like to extend the happiness and fun to all my readers. I'll be giving away one gift pack from Uni-Pak. Here's the procedure below:
Simply like the Facebook post in The Tennis Foodie Facebook official page.
Share the post and tag 3 friends with the caption below:

"The Tennis Foodie Giveaway: 1 winner of Uni-Pak gift pack from @TheTennisFoodie and @unipakmackerel. Hindi basta nakasanayan, the BEST na yan. Kaya basta Mackerel, dapat tatak Unipak. #tatakunipak #paknapak #unipak"
Like the Uni-Pak Facebook official page.
Once Step 1-3 are fulfilled, this gives you 1 raffle entry.
For additional raffle entries, please do the following:

Leave at least 20 meaningful words comment on this blog post. (1 raffle entry)
Follow @emmandamian on Instagram (1 raffle entry)
Follow @damian_emman on Twitter (1 raffle entry)
Follow @damian_emman on Pinterest (1 raffle entry)
Follow +EmmanuelDamian on Google+ (1 raffle entry)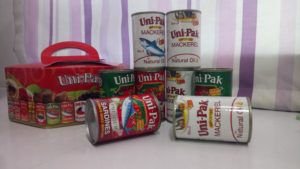 Notes of Eligibility:
Open for all Facebook users who have like / will like The Tennis Foodie Facebook official page and Uni-Pak Facebook official page.
Only those who have correctly shared the post will be eligible for the raffle.
This is open for Philippines residents only.
This is a sponsored giveaway from Uni-Pak. The lucky winner will be contacted via Facebook Messenger. The prize will be delivered by Uni-Pak representatives. Good luck everyone!