Tous Les Jours is one of the premier provider of quality breads and pastries in the country. Tous Les Jours (TLJ) is a French-Asian artisan bakery that provides best quality produce on a daily basis. The brand came from a French phrase which means "every day." The ingredients are carefully sorted and sourced out from South Korea. It's the perfect fusion of European and Asian concept: European styled bakery with Asian flavors and ingredients. The bakery offers five-star friendly service to each customers.
Mark all your calendars! In line with the 7th anniversary of Tous Les Jours Philippines, here's a pleasant surprise for all: 7 Breads for P70!
There's no specific purchase amount required. It may be through dine-in or take out while supplies last. This will be on November 11, 2018 from 7 PM to 9 PM.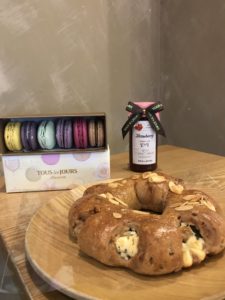 Disclaimer: Maximum of three anniversary promo per transaction only.
Did you know that Tous Les Jours is part of the Grub Club? Check out the perks and privileges below:
Grub Card – Terms and Conditions
Discounts and Privileges
10% off across all brands from Tuesdays to Sundays
15% off on all brands every Monday
50% off on all Tous les Jours breads 1 hour before closing
Vouchers
1 (One) 20% off your bill on your birth month
2 (Two) P500 off for minimum purchase of P2,000
3 (Three) P200 off for minimum purchase of P800
4 (Four) P100 off for minimum purchase of P500
Reward Points
Earn 1 Point with every P50 spend
1 Point = P1
Grub Club Card Purchase
Card is valued at Php 998
Twelve (12) months validity upon purchase
Discount and privileges can be claimed from all Trident Food Group Brands
Grub Club discounts are not to be combined with other discounts and promotions such as party packages, banquet services, events, senior citizen and PWD discounts
In-store Registration
Purchase the card
Provide Grub Club ambassador with your card and basic information details
Confirmation code will be received via SMS or Email
Provide Grub Club ambassador with code received to activate your card
Web Portal Registration
Purchase the card
Visit www.grubclub.ph and click on Register
Sign up by filling up the required information
Activate your account via SMS or Email
Mobile App Registration
Purchase the card
Download the free App via Apple App Store or Google Play Store
Sign up by filling up the required information
Activate your account via SMS or Email
How to use the Grub Club Mobile App
Download the app from Apple App Store or Google Play Store
Log in your account with your username and password after registration
Complete the registration on the "My Account" portion
Check the Grub Club Mobile app to monitor your points, rewards and other offers
Lost or Stolen Card
Please report lost or stolen card so it can be deactivated immediately
Existing points from lost card will be transferred once new card has been issued and updated in the system within the next 48 hours
The same expiration date will apply for the replaced card
Php 100 for card replacement
Expiration
Card expires after twelve (12) months from date of purchase
Once card expires unused points can be carried over upon renewal or purchase of a new card
Upon card's expiration date customer has three (3) months to purchase a new card otherwise points will expire
How to earn points
Each fifty (50) pesos spent on food and beverage is equivalent to one (1) point
One (1) point is equivalent to one (1) peso
Point may be earned from all modes of payment including cash, credit and debit card
Points may be converted to monetary form and can be consumed anytime within the validity period of the card
Points can be earned from all Trident Food Group Brands
Present your Grub Club Card upon payment to earn points
Points earned will be credited within the next 48 hours
Points earned at all Trident Food Group Brands can be checked either through the Grub Club Website or thru the Grub Club Mobile App
Banquet reservation/event is not applicable to earn/accrue points
How to redeem your points
Present your Grub Club card at any of Trident Food Group restaurants or stores
Points earned can be redeemed from all Trident Food Group
Points earned can be used as mode of payment for dine-in, in-store purchase and take-away
Points are non-transferable and cannot be converted to cash
To know more about the brand, you may follow their official social media sites:
Facebook: Tous Les Jours PH
Instagram: touslesjours
Twitter: TousLesJoursPH
Website: https://www.tlj.ph/
You can also check out other Trident Food Group Brands / Grub Club merchants below: