Pepeng Hapon has been very controversial for me. Filipino + Japanese fusion food sounds very dangerous but it was worth the try. I got attracted to the idea that one day I can eat bulalo in a ramen or sisig in a sushi. Well, I don't have to wait no more as Pepeng Hapon is here to stay.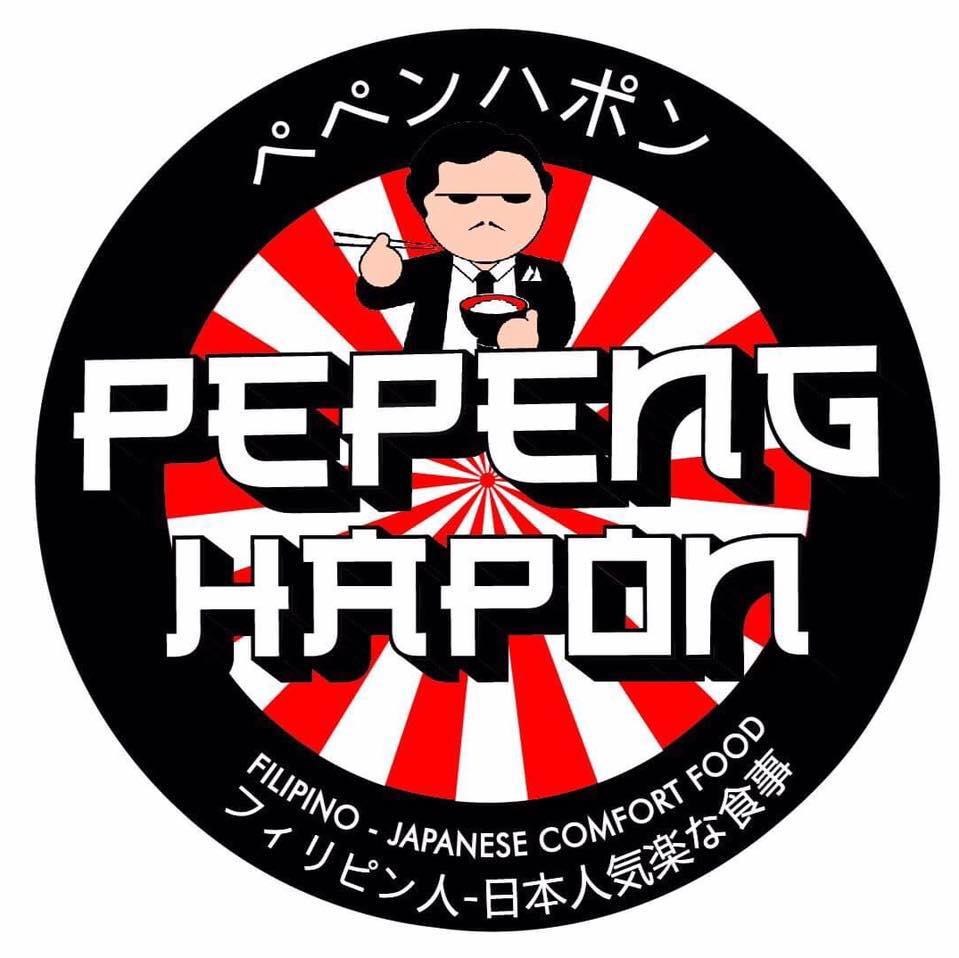 The Tennis Foodie visited Pepeng Hapon in the heart of Taft together with my good friend, Ella of Ellatopia. It was a rainy day but it won't stop me from trying this hidden gem.
Pepeng Hapon got its name from "The Asiong Salonga Story." Joko Diaz portrayed the character "Pepeng Hapon" so Chef Mark Marzan, founder of Pepeng Hapon Food Co. (PHFC), adopted the name after watching the movie. It was an embodiment of the two concepts the chef has in mind: Filipino and Japanese.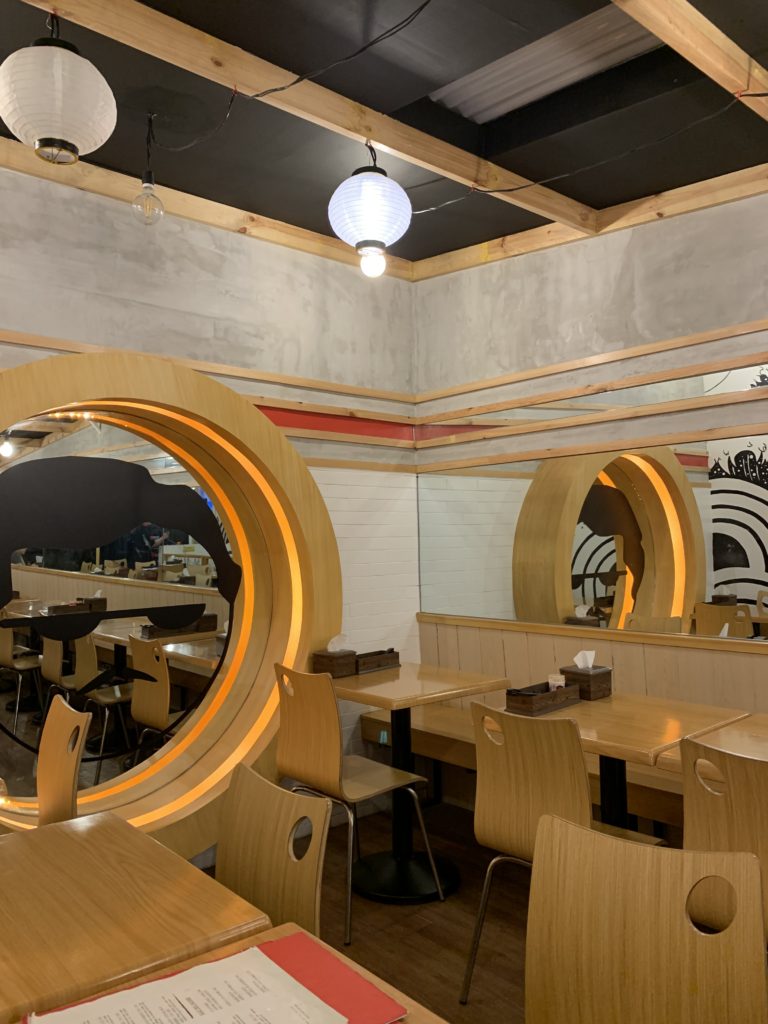 Initially, Pepeng Hapon started as a food delivery business last May 1, 2018 while still operating from the kitchen of Chef Mark Marzan home in Hulo, Mandaluyong City. Orders came from friends, family, Facebook and Instagram.
Cook as if you are cooking for a loved one – Chef Mark Marzan
What I love about the restaurant is that the exterior finish is made of old wood while the ambiance resembles a mixture of classic Japanese interior (with the wooden walls, tables and chairs) and a hip atmosphere with modern Japanese wall art! It's a marriage of tradition and modern take.
While classic Japanese dishes are great on their own, you get to try something new with a Pinoy twist and taste the unique difference! There are some unique sushi varieties that take the form of our beloved local viands such as adobo, sisig and tapa. Two things in one! Why not?
Here are some of the items I tried during my visit:
To start off, I tried their Bulalo Shoyu. I was craving for bulalo and ramen at the same time. Why not combine them? Surprisingly, the rich flavor of the bulalo broth did not overpower the ramen component of the dish. It includes sweet corn, egg, beef pieces and some garnishes to complete the experience. It was an ACE for me.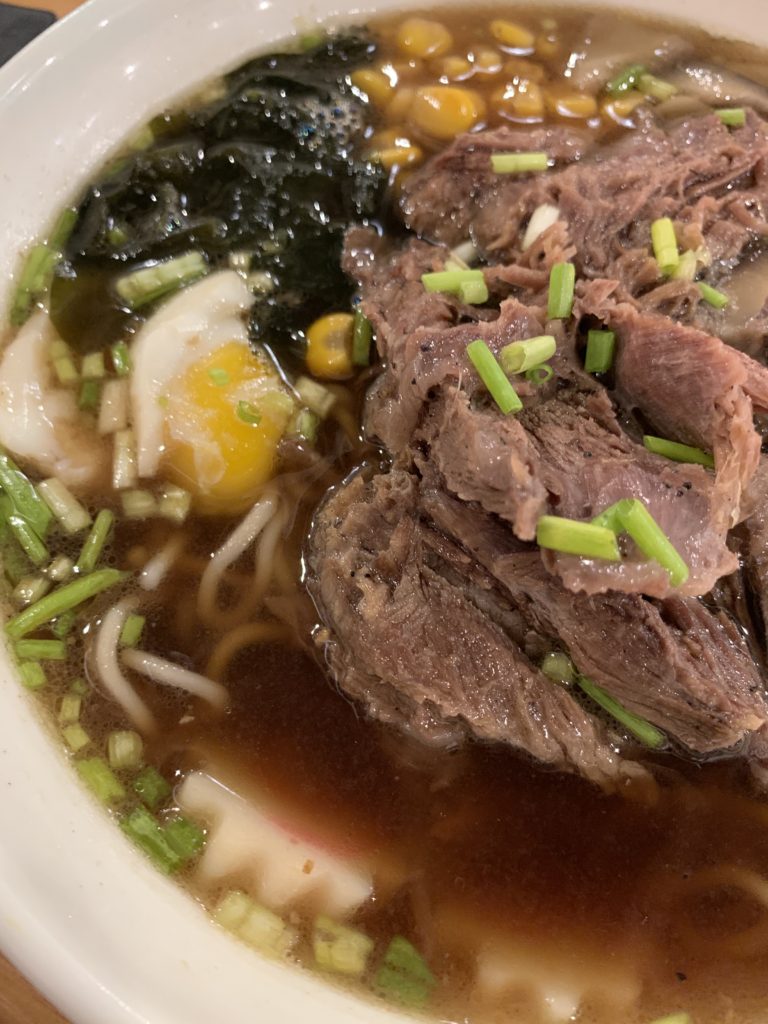 Sushi has been one of my favorites so I was so eager to try their rendition of old Filipino dishes in a Japanese way. First from the "EAT MY SUSHI" series would be Adobo Sushi.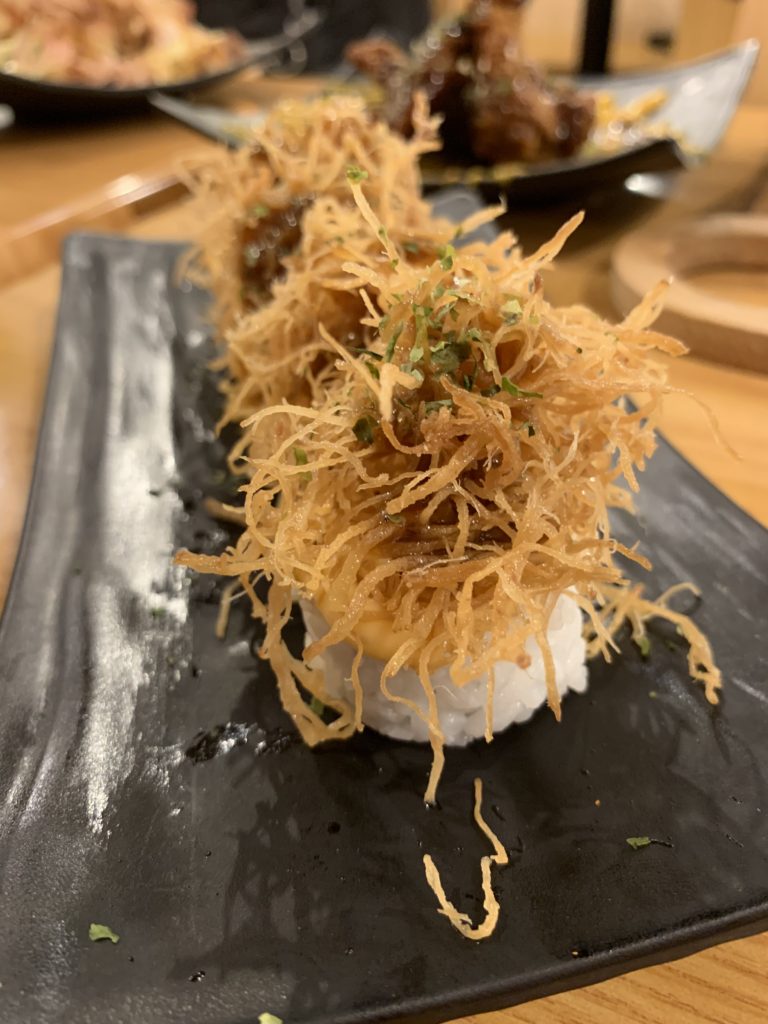 Topped with adobo flakes, each bite will definitely have a contrast of crunch and smoothness. What i like about this dish is that the adobo flakes remained very crispy even after an hour. It was not oily too. This one is a HIT for me.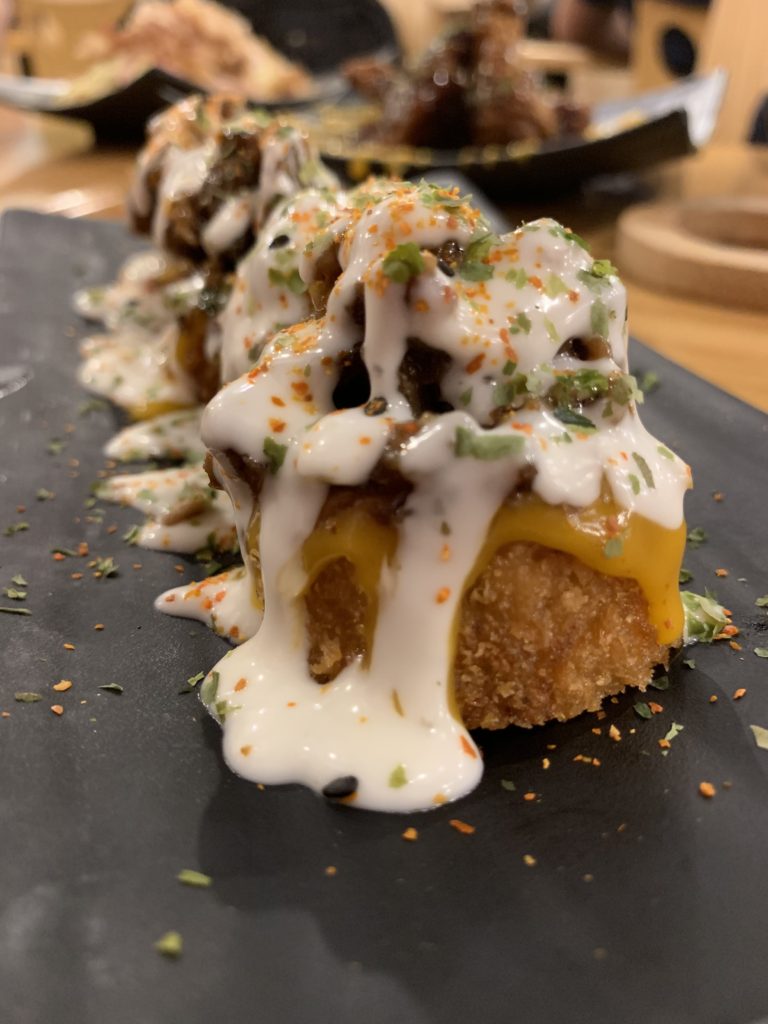 Tapa Sushi was a bit heavy although it was so tasty! Topped with special sauce and garnishes, it will surely be on top of your list! Not really a big fan of tapa but this one got an ACE for me.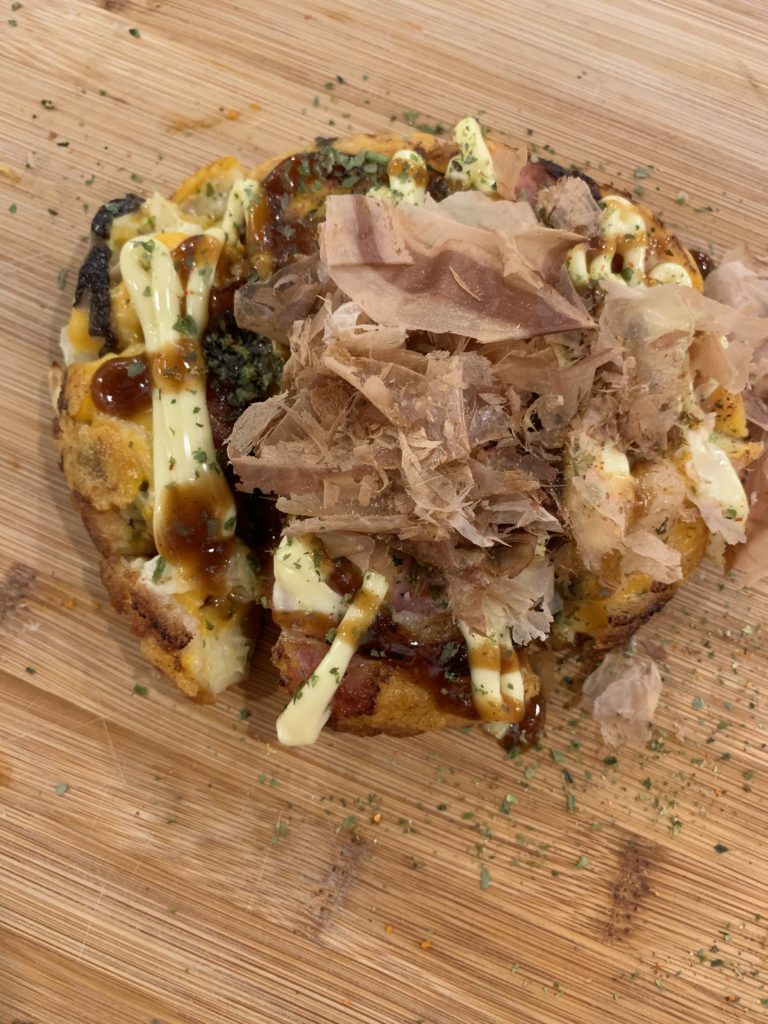 Composed of bacon, cabbage, mushrooms, Japanese mayonnaise and mozzarella cheese, Cheesy Bacon Takoyaki Pizza will surely be an instant HIT for you. At first, I was a bit skeptical about it as it doesn't look a pizza to me at all! I'm not also not fond of okonomiyaki but I was so surprised when I took a bite! Serving size is a bit small but worth the try!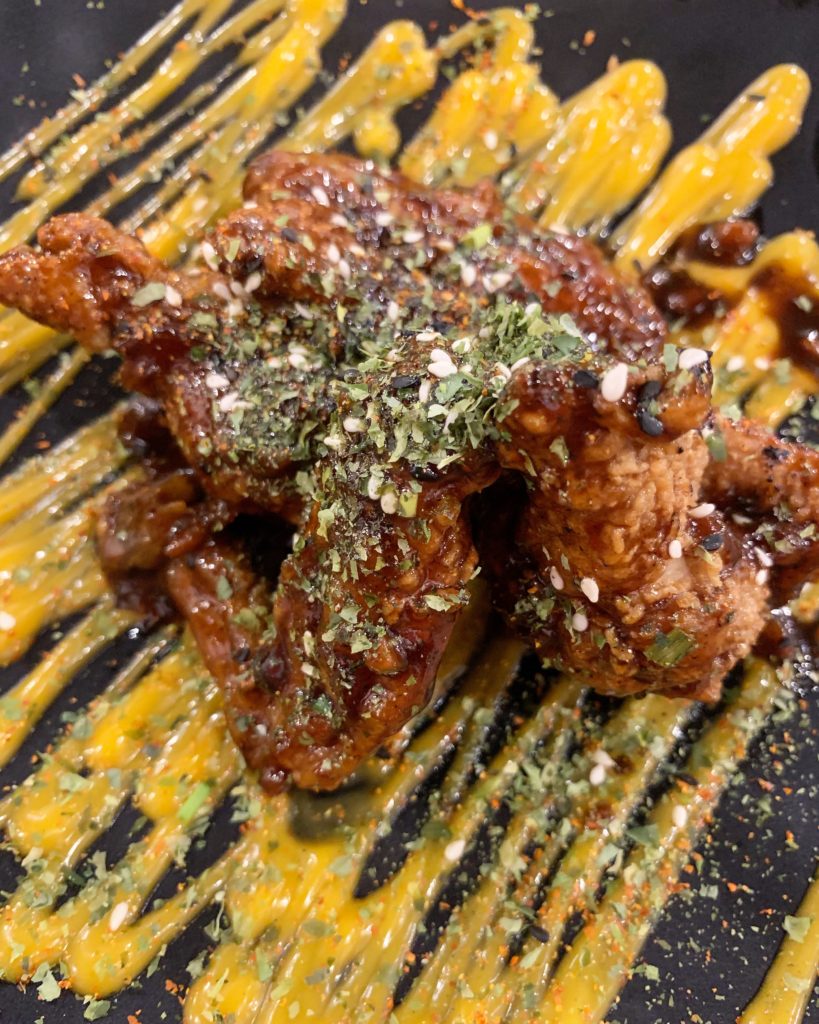 Pepper & Cheese Pakpak Wapak was one of the best dishes served to me. Aesthetically pleasing plating along with a great taste flavor sealed the deal for me. The cheese did not overpower the overall taste of the wings and you can still get that crispy crunch on each bite. Pepper balanced the sweet taste of the cheese. This one is an ACE for me.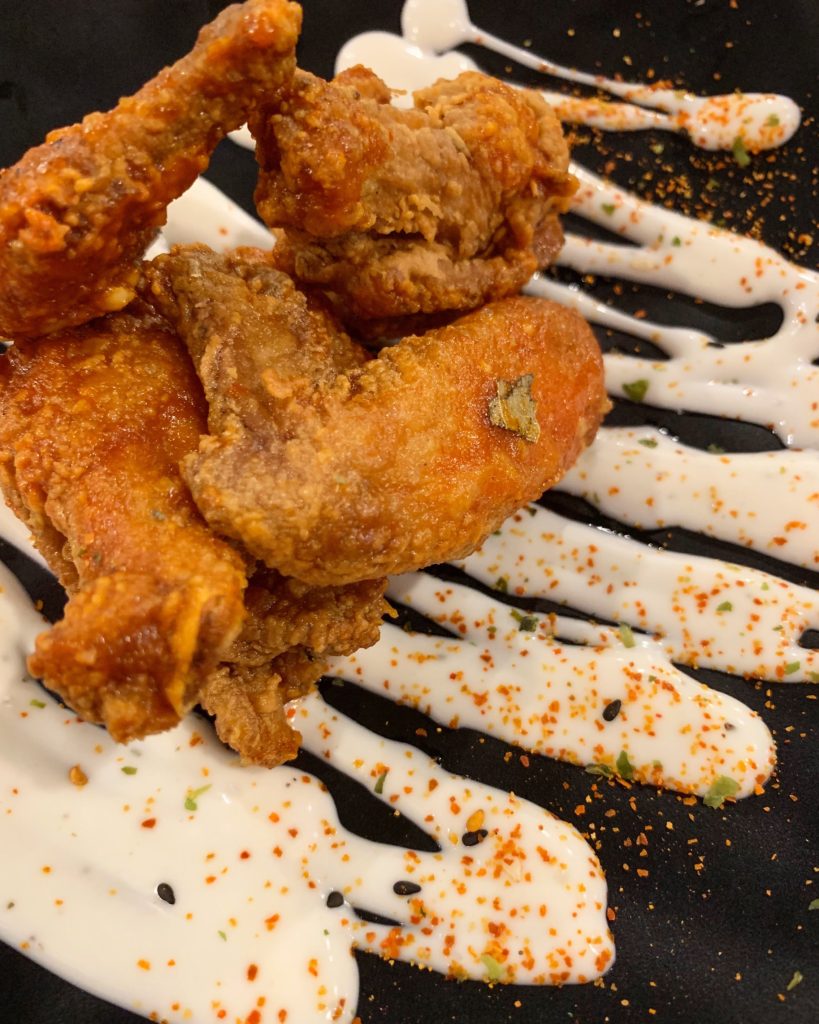 Sriracha Adobo Pakpak Wapak was so spicy! I love the sriracha kick to it and the sauce balances the heat by providing a sweeter touch to it. It was a HIT for me.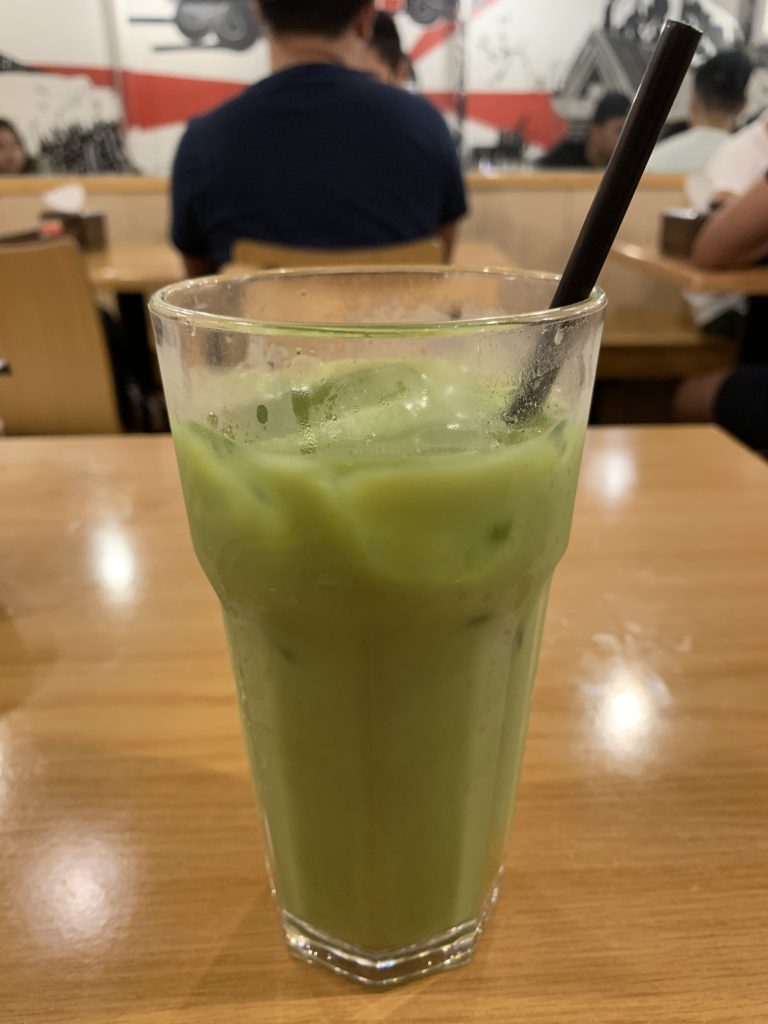 Don't Cha wish your drink was so COLD like this. Matcha! Kidding aside, Matcha Latte was not too overpowering. It cleansed my palate every after dish. I would drink two – three glasses of this. A HIT for me.
It was a fun experience dining at Pepeng Hapon. Thanks Gio Torres for inviting me over.
To know more about the brand, check out their official social media sites:
Facebook: Pepeng.Hapon
Instagram: @pepenghaponph