Iced tea is one of my favorite drinks especially during the summer season. Recently, I discovered a fun and refreshing drink that will surely quench your thirst – Allmytea Iced Tea.
Allmytea Iced Tea is currently available as ready to drink (RTD) or as concentrate. Let me breakdown the difference and advantages of each one.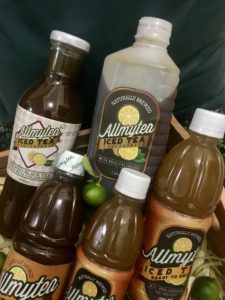 Allmytea Iced Tea Ready To Drink
1. Shelf life is usually 4 months.
2. Refreshing Iced Tea in a handy PET bottle.
3. Easy to consume.
4. Made from the finest freshly brewed tea and calamansi juice extract.
Ready-to-drink variant is available as 350 mL and 500 mL PET bottles.
Allmytea Iced Tea Concentrate
1. You just need to add 6 parts of water for every 1 part of the concentrate.
2. Less time in making your own house blend iced tea.
3. Quality concoction in just few minutes.
4. Made from the finest freshly brewed tea and calamansi juice extract.
5. Has a greater yield than the Ready To Drink.
6. Shelf life is longer than Ready To Drink (6 months).
The concentrate is available as 500 mL and 1 L PET bottles.
Here's a little chunk of history from the makers of Allmytea Iced Tea:
Marventure Corporation is the brainchild behind this amazing brand. It is a family owned company which started last 2003 when the head of the family, Danilo Buenaventura, suggested to his two daughters Janice and Karen to sell the iced tea concoction of his wife Imelda. Both daughters realized the big potential of the product so they immediately worked on the development of the formulation and shelf life extension study with the help of food technologists. The brand keeps on improving their quality to boasts its world class excellence.
The small production area was constructed in the family's property in Tonsuya, Malabon on August 2003. An LTO or License to Operate was issued by BFAD or now known as Philippine FDA on October 2003. It started its formal operations and sales on November 2003. Janice, as the Chief Operating Officer, saw the need for the use of machinery to supply the growing demand and to tap more markets. With the aid of Department of Science and Technology's SETUP (Small Enterprise Upgrading Program), additional capital was provided for the purchase of the needed equipment for the development of the product to facilitate better capacity output.
Presently, the company is managed by Janice and her husband Caesar. The company now has a manufacturing plant with semi-automated equipment that produces this locally made drink. The company strictly follow Current Good Manufacturing Practices to ensure the quality and safety of their products.
The company's mission is to provide Filipinos with an enjoyable, unique, healthy and safe cold tea drinks through the company's dedication to quality, standards and good customer service.
Apart from this, I got a privilege to interview Janice B. Cortes, the President and Chief Operating Officer of Marventure Corporation. Please see the transcript of my interview:
TF: How did the brand started?
JC: The brand started from the movie Bruce Allmighty. I just changed the spelling to Allmytea.
TF: What is your inspiration behind the product? Why use calamansi as a variant for your iced tea?
JC: It is my mom's recipe. I did not change any ingredient from her original recipe.
TF: Did you employ special techniques or technology to your products?
JC: We are like going back to the basics. We use real ingredients in Allmytea, real brewed black tea with fresh calamansi squeeze. For the Allmytea Concentrate, it is in liquid form, not powder type. It is directly bottled right after brewing the tea combined with the rest of the ingredients.
TF: Do you have any new products line up for the next 6 months?
JC: Allmytea Lite, that's Allmytea with no sugar. We will use Stevia as the sweetener.
TF: What is the concept behind the brand name Allmytea?
JC: Allmytea is to give glory to God Allmighty for His goodness and faithfulness.
One of the company's visions is for Jesus to be known through our products
My mom and my bestfriend (friendy) actually really loved the blend. They thought that it was comparable or even better with your available house blend iced teas in several major restaurants. Personally, I really love the refreshing taste. The calamansi definitely gave a tangy twist and a Filipino touch to this local brand. I would give this an ACE. I also love that this brand keeps on innovating to be able to cater for more emerging markets. As I always say in my previous articles, I always support small and local brands. It's a personal advocacy of mine to promote these products.
What are you waiting for? Grab a bottle now and enjoy nature's goodness in a snap! Go for local product! Go for Allmytea!
Allmytea Iced Tea is available at leading supermarkets nationwide such as Cash & Carry, Landmark, Puregold, Walter Mart, All Day Supermarket, San Mig Food Ave Convenience Store and Anson Supermart. They are also available online at Lazada and BeautyMNL.
To know more about the brand, check out their official social media accounts:
Facebook: AllmyteaIcedTea
Instagram: AllmyteaIcedTea
Twitter: @jeng_Allmytea
Website: www.marventurecorp.com.ph