It has been a fun European tour for me last 2017. I have never imagined visiting these wonderful cities like Bruges, Brussels and Rome to name a few. Have you ever had that experience where you have a long lay over but you don't have any plans in particular? Well, I did the most of my 21 hours in Oslo, Norway.
Go to the city
I started from the Oslo International Airport (Oslo Lufthavn) to Oslo S station. This is the place where I met my college friend Lhyn who I haven't seen for a long time. It's a mini reunion!
I love the trains in Oslo! They have free wi-fi and coffee! Yes! You heard it right! COFFEE!
I have seen snow a couple of times but this one in Oslo was pretty special. It actually rained in snow and I was like a little kid playing with it. It was fun!
I tried a Christmas meal in Oslo. It was so good. I had the Juletallerken. It was my first ever Norsk food! Yummmm!
Visit the Christmas Market
I always visit the Christmas Market in any part of Europe. It's really fun to roam around and discover things you can buy as souvenirs or local cuisines that you can try.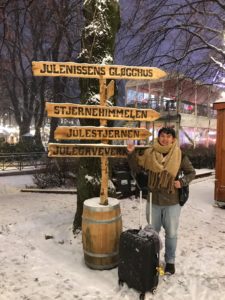 Ride a Ferris Wheel
I love riding the Ferris wheel. I was really excited as it was snowing. It gave an additional effect!
Will I go back to Oslo? Yes! It was a fun 21 hours lay over. It's great that I have friends where I can meet here. It's now one of my favorite cities in Europe (apart from Bruges). Can't wait to go back!
Check out my other European related articles:
Till my next European Trip! Watch this space for more updates.
The Tennis Foodie 🙂