Danes Cheese is a perfect blend of the classic goodness of cheddar and the gastronomic delights of a millennial Filipino household. With the right balance of creaminess, cheesiness, and sweetness, it is one of the few cheese products available in the market that suit the distinct and unique Filipino taste.
I had the opportunity to create an easy to make recipe using Danes Cheese Block 450g (Php. 120.00) and Danes Cheese Slices 250g (Php 65.00). Both are available currently in leading supermarkets nationwide.
Ingredients:
4 slices of bread
4 pieces of Danes Cheese Slices
8 pieces of Danes Cheese Block (cut into 1 inch strips)
4 pieces of Danes Cheese with Real Bacon Bits (cut into 1 inch strips)
2 pieces of eggs
1 pack of breadcrumbs
1 pack of CDO Honeycured Bacon
2 cubes of butter
1 stem of Chinese parsley (for garnish)
Instructions:
Cut the sides of the bread leaving the white portion only. Flatten then set aside.
Cut the Danes Cheese Block and Danes Cheese with Real Bacon Bits into 1 inch strips.
Carefully place a piece of Danes Cheese Slice at one flatten bread. Add few pieces of Danes Cheese Block and Danes Cheese with Real Bacon Bits. Roll.
Seal it with 3 strips of bacon by wrapping it to the rolled bread. Dip in breadcrumbs then egg to seal the bacon fully.
Preheat the pan with butter.
Fry the Danes Cheese Bacon Rolls 3 minutes on each side at the preheated pan with butter.
Once it is golden brown, plate it up and garnish with Chinese parsley (wansoy).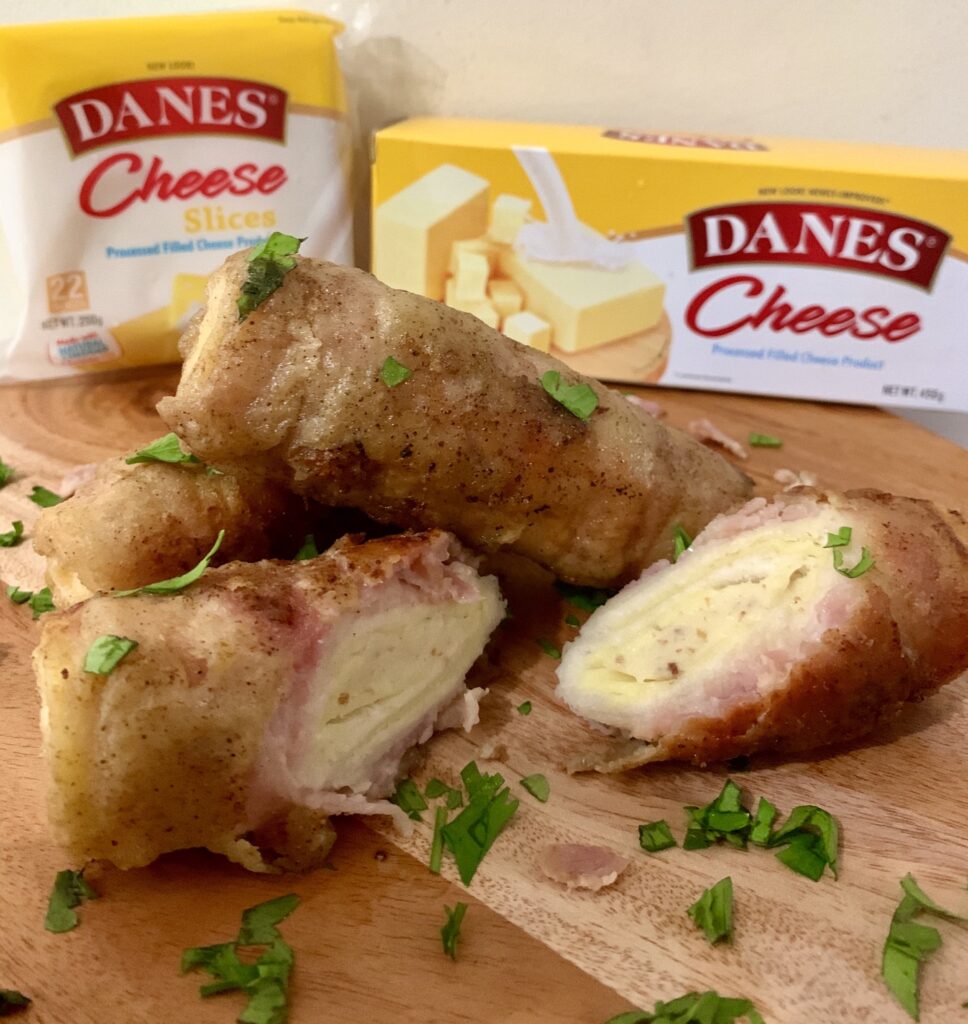 Here are some of The Tennis Foodie's original recipes:
Danes Cheese is part of the CDO Foodsphere Inc. The company continuously improve the quality of their existing products and develop new ones through extensive, consumer-centric research. With sophisticated machinery plus a unique emulsification system, the company is able to mass-produce not only superior quality products but also—and more importantly—millions of happy consumers day in, day out. The company invest in top-notch storage systems and facilities to maintain superior quality of every CDO product by the time it reaches the grocery shelves, and ultimately, the consumer's dining table.
To know more about the brand, visit their official social media page at Facebook: Danes Cheese.