Last January 14, 2018, 
The Tennis Foodie
 launched a new section called 
Tennis Player Series
. For the second installment of this new series, I selected a player close to my heart. He's a
former world no. 18
in the ATP World Tour doubles rankings. He's a Filipino-American player which represents Philippines internationally. This is no other than
Treat Huey
, winner of 8 ATP World Tour titles in doubles.
Here's a transcript of my exclusive interview with Treat Huey:
TF: How's your life away from the tennis courts? Any updates on your injury?
TH: I am doing a lot better now. I have been working out and practicing full for the last month now and I can't wait to get back on tour. 
TF: When are you planning to come back? Any special tournament where you'll start your season?
TH: January for the Australian Open.
TF: The last few events, you didn't have a regular partner. Anyone in particular you'll play with?
TH: Not 100 percent sure yet but I am looking now for a good partner or partners for the start of next year. 
TF: You had so much success with your previous doubles partners. Who's your favorite doubles partner? Any special titles?
TH: Max Mirnyi for sure. In 2016, I had my best season with him. We won in Acapulco, made the quarterfinals at the Australian Open, the Semifinals at Wimbledon and qualified for the ATP World Tour Finals at the end of the year.
TF: What's your most memorable win in your career?
TH: When I won my first ATP event in Washington DC. I spent a lot of my childhood 20 minutes away and went as a fan to the tournament every year.
TF: Who's your dream doubles partner?
TH: Roger Federer
TF: How about mixed doubles partner?
TH: Serena Williams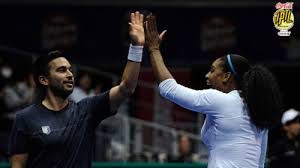 TF: Any favorite tournament? What is it and why?
TH: Australian Open. The energy of the tournament and in Melbourne during those two weeks is incredible.
TF: Toughest opponent so far in the tour?
TH: Playing Roger and Rafa during the IPTL was amazing but I would have to say the Bryan Brothers because they are the greatest team in doubles history I think and they always seem to find a way to beat me.
Thank you Treat for the interview! I really hope to play tennis with you in the future.
Check out my other tennis related articles below:
Classic Meets Color (Vollaix 2017)
*All photos grabbed in ATP World Tour and Treat Huey website.